Unforgettable Art Supply Moment No. 6 - Mike Moran
January 12th 2012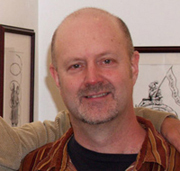 "My Most Unforgettable Art Supply Moment" is a series of short interviews with seasoned artists who have survived substantial combat in the great war of the graphic arts. Each participant was asked the same five questions.

One day, illustrator Mike Moran hopes to play first base for the New York Mets and be a songwriter. In the meantime, he's been working successfully at the art of having fun, drawing and animating his art for almost 30 years for what he calls "some really neat clients." His lively illustrations have been commissioned by the likes of Disney, Major League Baseball, Scholastic, The New York Times, The Boston Globe, Reader's Digest, American Greetings, and, yes, even Purina Puppy Chow. Much of his artistic passion leans heavily toward illustrating children's books, and his latest, Poopendous!
, will hit the bookstores in March. He resides in Florham Park NJ with his wife Kristin, and two sons, Patrick and Matthew. See lots of Mike's work at www.mikemoran.net and on his blog at Drawger.com.
1. Can you recall for us your worst most unforgettable art supply experience?

I would use a Crow Quill pen nib to outline my illustrations. Every now and then I would drop the pen point on my hand or spear it. Not only did it hurt it would leave little dotted tattoo ink marks in my skin. Since I've gone to the computer they seem to have faded except one on my right hand middle finger, a perfect place for it!

2. Other than your first answer, is there an art supply that you've hated having to use more than any other?

Anything to do with Rubber Cement! Rubber Cement, Rubber Cement Thinner and Rubber Cement Pick-Up Erasers. Hated the smells and how dirty & gross the pick-ups would get.

3. On the other hand, can you think of an especially favorite art supply that you miss the most that has unfortunately left us for that big art supply heaven in the sky?

Rub on letters! As a illustrator I never really had a need for them but love to buy them!

4. Are there any other art supplies that you've just plain thrown away that you wish you still had?

It's been so long I can't say I miss anything!

5. At one time or another, a lot of us have purchased something that we thought was soooo cool when we saw it at the art supply store, then we ended up never ever using it. Has this ever happened to you?

Air Brush! Enough said...