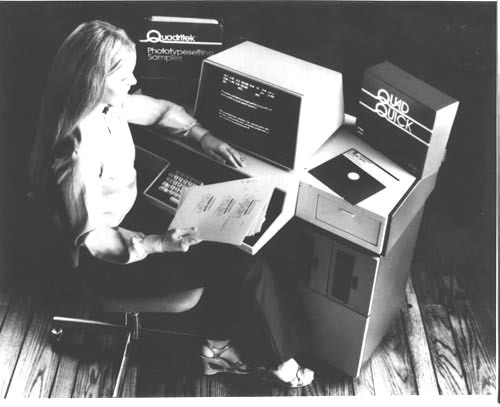 contributed by Lou Bortone

This was a photo typesetting machine much like the Compugraphic unit, its competitor in the late 70's and 80's. Four quarter inch-thick typeface segments were loaded into a circular holder so that each type segment was one quarter of the circle. They were on quarter-inch thick plastic of some sort. The typed words were exposed onto a roll of paper within the unit, then into an light-tight box which was sent into a chemical developer where the type was exposed onto the paper, ready for paste-up.. When I bought the unit for our Boston TV graphic department around 1984, it cost $17,000 and change. The fonts cost $125 each, and over three years I collected nearly 100 fonts.



Along came Macintosh computers, which put photo-typesetting out of business within a year or so. Believe it or not, I could not even give it away to MassArt, a Boston art school. They all wanted Macintoshes -- and we ended up depositing the entire unit plus all those wonderful typefonts into the trash!