Meet Lou Brooks, As.D.* - Our Founder & Curator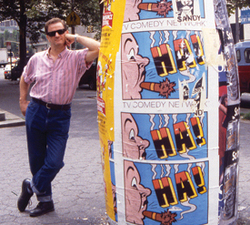 Lou Brooks, founder and curator of The Museum of Forgotten Art Supplies, well-remembers art supplies that have been mostly forgotten by the rest of the world. "I began in 1965 as a nightshift 'masker' in the masking bullpen of The Philadelphia Bulletin, a newspaper that bit the dust long ago," says Lou. "Advertisers sent in black and white ink-and-watercolor illustrations. Beautiful stuff... fashion, furniture, automobiles. To preserve the solid black line areas, we painted red lacquer on a clear acetate overlay before the stuff went to the engraving dept. I went back for a visit a few years later, and they still hadn't heard of Amberlith.


"A newspaper art career was about as low as you could go, but at 18, I didn't care. When we weren't busy, our boss would send us over to the engraving department or to the Linotype department to watch and learn. It really was an amazing education on production art, which still shows up in my work every day. Pretty soon, they had me working at the stat machine and the PhotoTypositor, or touching up stripper photos for the Trocadero Burlesk ads. Mostly putting some underwear on them. I may as well have been Vincent Van Gogh, for all I knew. I was in heaven." That perspective was helped by his prior job, which was loading tractor trailers at a Pennsylvania steel mill. Before that, he was washing dishes at Howard Johnson's on the Pennsylvania Turnpike.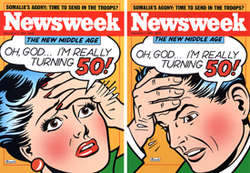 Completely self-taught as illustrator, cartoonist and author, he continues to be one of the best known contributors to the iconography of our popular culture. His art has appeared on the covers of Time and Newsweek over a dozen times. Right: For Newsweek's first ever "double" issue in 1992, two different Brooks illustrations for the same issue were printed and distributed side-by-side. "Between Time and Newsweek, I think I've lasted through six or seven ADs," Lou says, and admits that "these days, a comic-style image on a major news magazine cover is hard to come by." Even so, Time featured Lou's art on the cover of their special "Science & Romance" issue.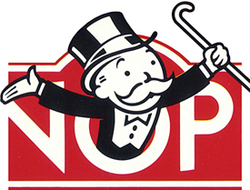 Top left: the *Doctor of Art Supplies himself leans against a kiosk of his art at Lincoln Center in '89, part of a media blitz to launch The Comedy Network. The entire campaign was derived from ten different on-air network spots of classic practical jokes, all art directed and illustrated by Lou. The exploding cigar art, shown here, was also fully animated on the original Times Tower Jumbotron screen on Times Square. Pretty cool.
Left: Brooks's 1985 illustrative redesign of the top-hatted "Mr. Monopoly" character for Parker Brothers has taken its well-earned place next to the most recognizable product characters of all time, and is easily familiar worldwide to anyone who has ever played the game.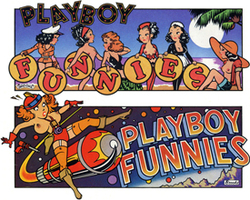 Right: He was a charter monthly contributor to Playboy Magazine's Playboy Funnies, and his Funnies art opened the feature each month for over a decade. His humorous and sometimes jarring award-winning illustrations have frequently graced the pages of The New Yorker, as well as The New York Times, Rolling Stone, Esquire, The Atlantic, Boy's Life and Germany's Der Spiegel. His illustrated book of poems for kids of all ages, Twimericks: The Book of Tongue-Twisting Limericks (Workman Publishing) was recently nominated for a Reuben Award by the National Cartoonist Society. His previous book, Skate Crazy (Running Press), is considered to be the bible of vintage roller skating graphics.

"I started the Museum about five years ago as a little side gallery show when I was blogging on Drawger.com, Lou adds. "I thought there'd just be a little interest from other Drawger artists and maybe a few friends. A little funny joke of an idea, like 'Do any of you guys remember this stuff too?' But people from all over started sending in photos and writing comments, and other sites started writing it up and linking to it. When boingboing.net featured it and Drawger spiked at over 10,000 extra visitors that day, I began to feel something was going on here beyond just art supplies. We've gotten comments from a lot of people in other areas: music, films, publishing, and on and on. I think it represents the threshold where technology changed us all."
For more fun, follow Lou's own amazing blog at www.loubrooks.com/blog !